Grading: 3
Distance 22km
This route starts on a fairly easy part witch is suitable for a 4×2 for the first 3km before climbing the plateau with grade 3 obsticles. Relaxed parts very challenging, yet family safe and fun. When planning to drive this route put at least 4-5 hours aside to be able to stop and have a picnic along the way.
Up onto a plateau where the wary will spot some mountain rheebuck. It then winds its way along a series of dongas and will provide enough challenges to test your 4×4 and driving skills. You'll have the pleasure driving this trail without the constant fear of scratching the vehicle because of an overgrown pathway or neglected maintenance. Moddergat play if you dare! This route is ideal for quad bikes. Plenty of viewpoints as well as shaded picnic spots. Clean drinkable water available on route.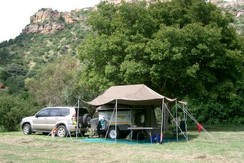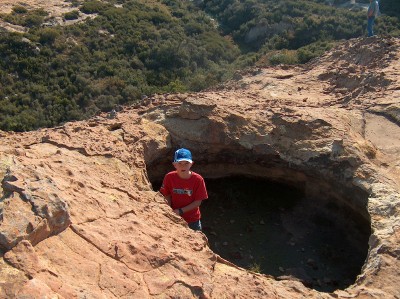 Grading: 5
Distance: 14 km
This route was based on an old cattle track used by the farmer drive cattle to grazing on top of Koranna Mountain. Woodcutters used this track to pull down trees from the mountain in the previous century. The feature that makes this place so unique is that two-veld types, one from the east and one from the west meet in these hills, thus the variety of flora. This route is not for the beginner 4×4 driver, dangerous spots, inaccessibility etc. The more experienced driver will however reap the rewards at the top, plenty of viewpoints waterfalls undulating savannah and the feeling of being with yourself.
The pass starts at 1500m above sea level and will climb within 2km to 1800m above sea level. The scenery changes from dense trees and shrubs and rocky ground to a more easy-going grassland plateau. Where you can sit back and relax while you soak up the atmosphere. You can see far and wide at this panoramic view from the top
There are spots where you get out of the vehicle for a while, and admire the breathtaking scenery, overlooking the beauty of the waterfalls. There's some pretty rough stuff to negotiate in getting to the top of the Koranna Mountain. The mountain trail features some of the most spectacular scenery in the Free State. This route is closed when it's wet as it would simply be too slippery to even attempt the ascent.
You need some sound technical skills –
The route down the mountain follows the same path. Caution is advised when driving down the rough sections, first gear low range should do the trick while the foot brake might come in handy every so often. We recommend that tyres be deflated to between 1.4-1.6 bar for lighter vehicles like Hilux, Isuzu etc. and 1.8-2.0 bar for heavier vehicles Land Cruisers Discovery Prado etc. This is not only for the sake of you getting to the top but also to minimize damage to the pass. Low range diff lock a must.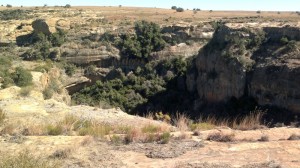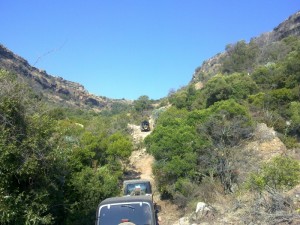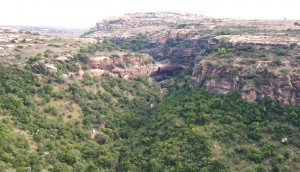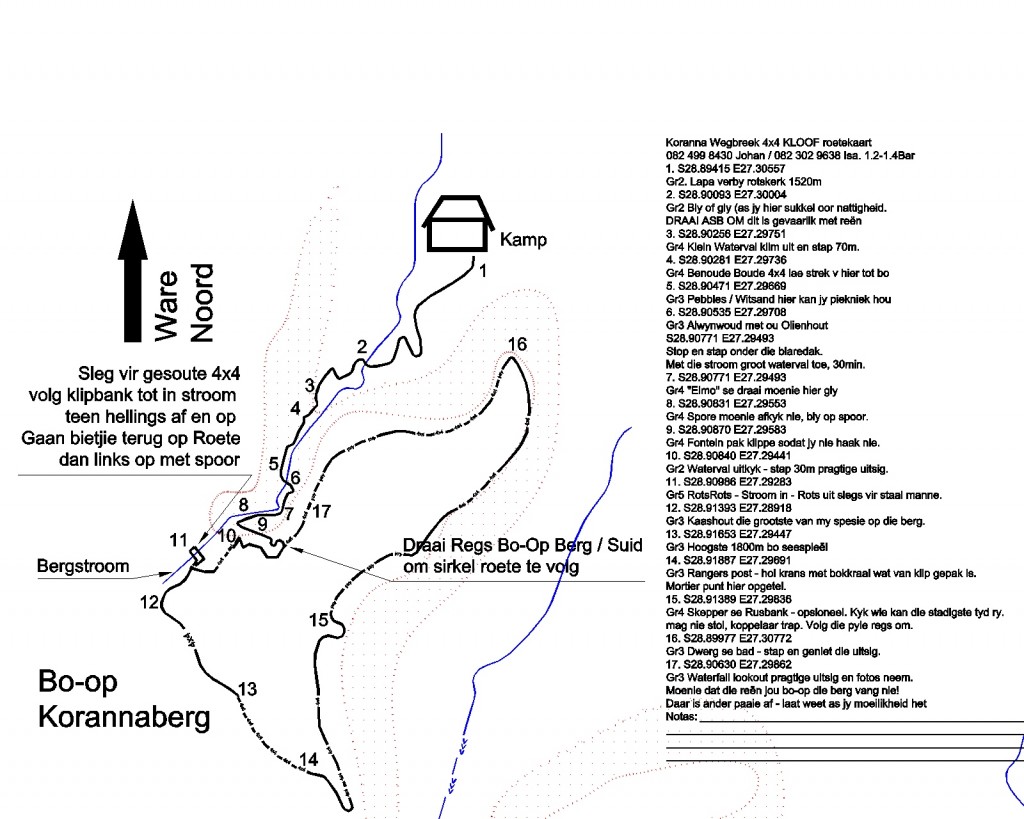 Lugfoto met die Track van die Kloof Roete